Primary Medical and Dental Care in Central, PA
If you live or work in Centre County and do not have health insurance…call us at (814) 231-4043
Find out about our Medical Care
Find out about our Dental Care
Centre Volunteers in Medicine will serve and advocate for the medically underserved living or working in Centre County.  
Contact us if you need to set up an appointment for your family member or yourself.
---
Season's Greetings to you and yours!!
The 2020 Friends and Family Campaign has begun!
Make a gift in honor of that hard to buy for person and make a difference in the life of someone in our community.
Once again this year, donations made during the month of December have double the impact thanks to Lance and Ellen Shaner who will once again match dollar for dollar up to $50,000.
---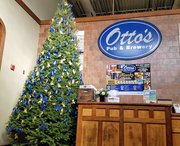 .
Otto's Holiday Tree to Benefit Centre Volunteers in Medicine
.
Otto's Pub and Brewery held its 7th Annual Holiday Tree Fundraiser, with all proceeds going to Centre Volunteers in Medicine.  Thank you to all of you who came out to Ott's during the month of December to buy a ribbon in support of CVIM.
.
---
.
36th Annual Nittany Valley Half Marathon
December 8, 2019
Thank you to the participants and volunteers who were a part of the Nittany Valley Half Marathon. Over $25,000 was raised to support CVIM and the patients we serve.
---
CALLING ALL VOLUNTEERS.  Would you like to help change and even save lives? You can make a difference at Centre Volunteers in Medicine.   CVIM is looking for clinical as well as non-clinical volunteers like you!  You can sign up here.
CVIM SPEAKERS would like to come to your organization or group meeting to update you on what is going on with healthcare in our region, contact us for more information.
In February CVIM celebrated 15 years of caring for the uninsured. Many programs and services have been added to better care for our neighbors. To make arrangements for a CVIM staff member to speak at your next meeting, email Sue Forster at rarnold@cvim.net.
Our Newsletter, THE CARING CONNECTION, is available electronically.
We are proud members of VOLUNTEERS IN MEDICINE ALLIANCE. This is the only national nonprofit dedicated to building a network of sustainable free primary health care clinics for the uninsured in local communities. In 2016, these clinics engaged 10,500 volunteers and provided care to 95,000 individuals.
Partners and Affiliations